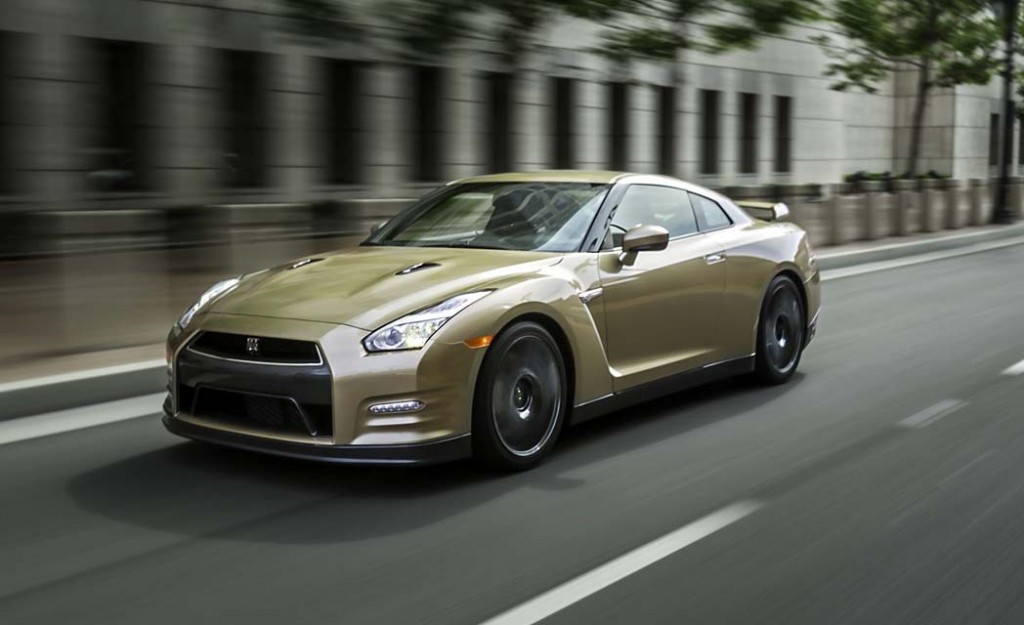 It has a 3.8-liter twin-turbo V6 engine.
A dual clutch 6-speed transmission.
ATTESA E-TS all-wheel drive.
20" RAYS wheels.
Brembo brakes.
And it's gold.
Nissan isn't messing around with honoring the 45th anniversary of the GT-R, which makes us wonder what they're going to do for the 50th.
The GT-R was first introduced as a higher-end version of its Skyline sedan, which is why the original was called the Skyline GT-R (it's a misplaced modifier that really should have been called the GT-R Skyline, but we'll let it go).
Today it's a 545-horsepower competitor to the Porsche 911 and the Audi R8.
All that power and everywhere to go
It has plasma coating on the walls of each engine cylinder, the better to optimize performance.
It has two clutches which means that your next gear change is already lined up. Nudge the throttle and the car switches over in as little as 0.15 seconds. Before you even know it happened, you're already on your way to the next one.
We mentioned ATTESA E-TS all-wheel drive, but what is that? It's an intelligent system that sends all the power to the rear wheels when you need it. However, sometimes you need more front-wheel grip. The car knows when, and distributes power as necessary.
How much thought was put into making the GT-R sing
Half of good driving depends on good braking, which is why Nissan made sure to put as much thought into slowing down as it does to speeding up. With 15" rotors up front and in the rear, diamond-pattern ventilation whisks brake-fade away and keeps your wheels from overheating.
But the most important system of all is the engine's integration right into the chassis itself. The compact design of the V6 means that it can nestle right between the front wheels, lowering the center of gravity and creating a tightly-knit feeling of stability while driving.
It makes this GT-R a terrific celebration of 45 amazing years, and it makes us hungry for the next generation of the GT-R, due out in two years.
Come by Leith Nissan while you wait to see what's new and exciting.
Have a Seat: Nissan Announces 2016 GT-R 45th Anniversary Gold Edition
was last modified:
November 11th, 2015
by