Are you feeling lucky, Sparky?
Nissan has recently built a reputation as a company that isn't afraid of getting a bit, well, funky. It placed the iconic GT-R drivetrain into a Juke, which yielded a whopping 800 horsepower; it sent a Leaf to scuttle up Pikes Peak – for whatever reason; finally, Nissan built a race-ready Leaf that harnesses surprising power without compromising its Captain-Planet-esque love for nature.
At Nissan's Arizona facility, two engineers created a unique cross-breed that offers the utility of the venerable pickup truck.
Rolan Schellenberg and Arnold Moulinet converted a Nissan Leaf into what they have dubbed as "Sparky." This venture arose from the need to transport items too unwieldy to carry yet did not require a full-size pickup. After all, working at a facility with a 3,050-acre campus that includes a 5.7-mile oval test track, there's quite a bit of over the river and through the woods.
The Nissan Leaf's drivetrain remains intact for this diminutive creation, but the roof has been supplanted by that of the Nissan Titan, and they added a shortened Nissan Frontier bed. This not-quite-a-pickup-not-quite-a-Leaf does feature some distinct characteristics: wooden bed slats, sharp wheels, and Leaf's rounded rear end.
If they create a second generation of this pickup, we have the perfect name for it: Nick Papagiorgio.
Eat Your Heart Out, Gareth Edwards – It's "Godzirra"
Almost a decade ago, a goliath emerged from the Nissan plants and laid waste to its competition's numbers and performance. The Nissan GT-R, commonly referred to as Godzilla, hit the market with unprecedented speed and efficiency; a twin-turbo DOHC V6 infused the beast with life, and here are the results:
485 horsepower and 434 pound-feet of torque
0-60 mph in 3.2 seconds
193 mph top speed
16-23 mpg
The GT-R managed to dominate European brands "supercars" – eat it, Mercedes, BMW, Porsche, and whoever else isn't worth mentioning – and it did so with far better fuel efficient capabilities, as well as a less costly price tag. In addition to the performance, Nissan also provided the luxury: leather seats, dual-climate controls, premium 6-speaker sound system, voice-activated navigation, satellite radio, and, oh yeah, power everything.
As if that weren't enough to make your palms sweat, Nissan debuted a remarkably sexy concept at the Goodwood Festival of Speed over the summer. The company called it the Concept 2020 Vision Gran Turismo … 2020 (clue) … Vision (clue) … Gran Turismo (oh my).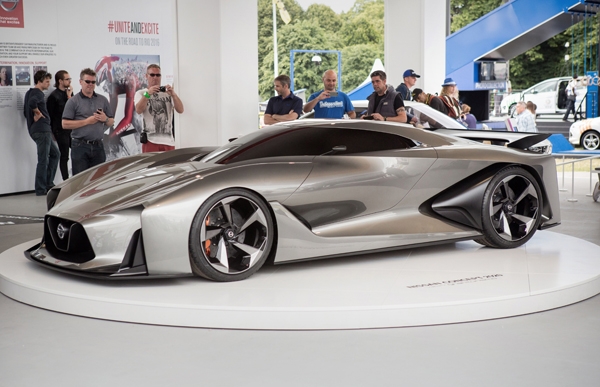 Though this is a concept, Nissan has announced that it will keep features of this vehicle for the next generation of GT-R, the R36. The concept boats a four-wheel-drive powertrain and a transaxle layout form the current R35 model. The Nissan GT-R R36 will come with an installed 134-horsepower electric motor bolted to the existing gasoline engine, totaling its horsepower to 784 and pound-feet of torque to 737.
Nissan has called it "a vision of what high-performance Nissan could look like in the future."
Godzilla and Sparky Are One of a Kind
was last modified:
December 29th, 2014
by