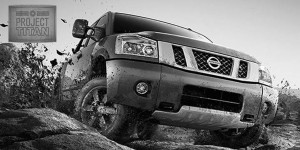 In a highly competitive market with dozens of automakers vying for consumers' attention, companies are continually seeking ways to attract new buyers. Nissan, for the third time, turned to the most powerful marketing group: its audience. For those unaware, the Japanese automaker engaged the public to help design the 2012 Project 370Z and the IDx sports car concept, which one IDx design has been confirmed for production. Nissan clearly thought it prudent to continue the trend.
At the 2014 Shooting, Hunting and Outdoor Trade Show in Las Vegas, Nissan announced it intends to crowd-source for ideas to "help determine the adventure" of the Nissan Titan pickup's design. The first phase of Project Titan relies on 2,500 shooting, hunting, and outdoor journalists to submit a fantasy adventure via Twitter and video. Subsequent phases will be communicated via the @NissanTrucks Twitter handle, as well as the Nissan Facebook page.
Nissan believes its next-gen of pickup trucks will be unrivaled as a result of enriching discussions with truck enthusiasts, and Project Titan is a public extension of these efforts.
A few facts are known about the next Nissan Titan: the pickup will be equipped with an optional Cummins 5.0-liter V-8 turbodiesel engine, powering out more than 300 horsepower and 500 lb-ft of torque. Don't worry – it's acceptable and manly to weep right now. Plus, we won't tell anyone.
An approximate release date is 2016, so make sure you stay tuned in to this blog (Leith Nissan) for further developments!
Nissan Presents: Project Titan
was last modified:
December 29th, 2014
by