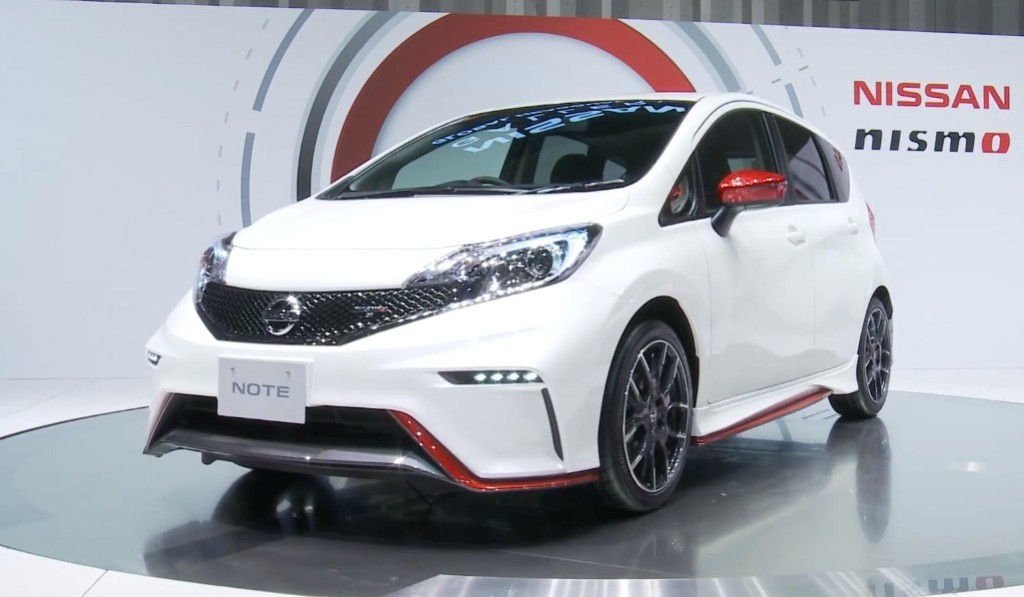 The Nissan Note is getting fine-tuned for its next generation thanks to the efforts of the company's Nismo division. It's part of the Japanese automaker's efforts to make its lineup a bit sportier. In 2009, Nissan revealed the 370Z Nismo, which received many accolades and car buyer excitement. Since then, the line has expanded consistently and now includes the already lauded Juke Nismo RS and GT-R Nismo. Now its attention turns to creating a sleek hatchback out of the Note (known as the Versa in the United States).
Japan will be the fortunate recipient of the new model this fall, but Nissan is keeping most of the specs under wraps. One of the handful of details released lets us know that the updated Note will come in two trims: Note Nismo and Nismo S.
Hiroshi Tamura, the Nismo division's chief product specialist, explained that the "development concept of this model was to build a car that makes you want to keep driving, no matter where your destination may be."
The Note Nismo will enjoy an upgrade in aesthetics, finally taking on the characteristics that a tuned Nissan should possess. One of the most striking features is the Nismo division's signature red trim outlining. An all-new, mesh grille, lowered air dam, red side sills, and rear spoiler will accompany the trim as fantastic upgrades.
On the interior, the Nismo S gets sports seats with optional full Recaro buckets.
Technical specs have not been releases for either the Note Nismo or Nismo S, but Nissan promises that the S will receive a more powerful engine mated to a five-speed manual transmission.
Nissan has already taken its place as a preeminent EV manufacturer with its LEAF. Many in the automotive industry fully anticipate that Nissan will do the same with its sportier lineup in the Nismo division.
Now it's time to let you in on the bad news…
Unfortunately, the new versions of the Note are not expected to reach American showrooms. We know: such a buildup of awesomeness only to let you down like a tease. We'll make it up to you, so make sure you check back!
Nissan Note Nismo – A New Generation
was last modified:
December 29th, 2014
by