Prior to joining the Leith family – I'll be honest – the Nissan brand wasn't one that I would've considered while shopping for a new vehicle. It seemed like all of the other automakers placed a lot of emphasis on advertising and had more announcements and updates; they constantly appeared in the news cycles. Two days ago, my boss tasked me with going to Leith Nissan for a test drive, which made me feel a bit underwhelmed. When I arrived at the dealership and walked into the showroom, that's when my reevaluation began.
The culture there lead me to a definitive answer about the brand: Nissan is enthusiastic about its product. Now, you may ask, how did I ascertain that from a visit to the dealership for a test drive? It's apparent in the enthusiasm expressed by its staff; the enthusiasm that clearly went into design and engineering; and the enthusiasm that driving one of the models inspires in you, the driver.
I would challenge anyone to find a brand specialist more passionate and earnest than Derek Parker. He doesn't want to sell you a Nissan; he wants to show you why people, like him, love Nissan. His welcoming demeanor and vast knowledge of the vehicles creates an easy process of learning about the brand and model. It felt like a completely unique experience compared to other test drives before we even pulled out the car.
With so many successful models, I tasked Derek to select the most suitable vehicle to highlight in a test-drive review. He pondered a few moments, audibly reviewing the merits of each as a method to measure which might need the spotlight. Even though it does not suffer from a lack of enthusiasts or buyers, Derek chose the 2014 Nissan Rogue.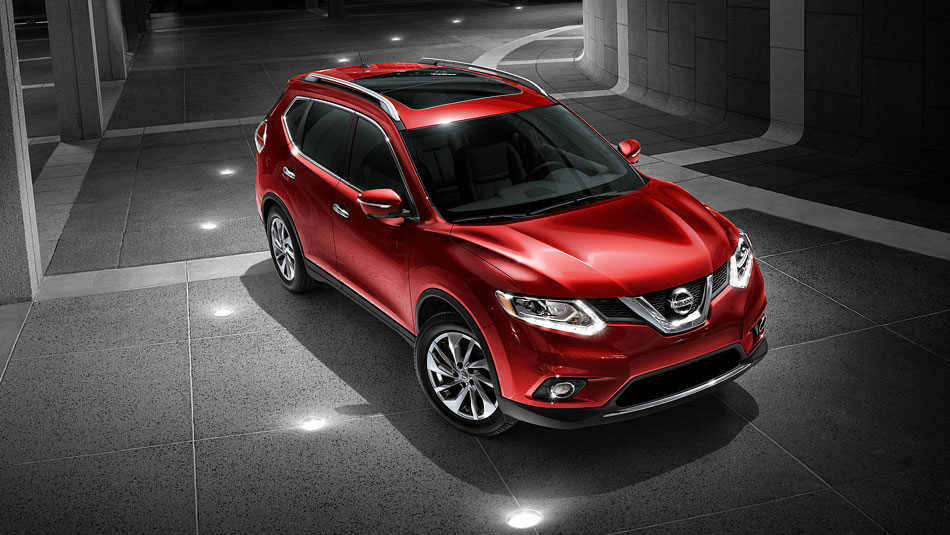 2014 Nissan Rogue – More of a Cross-Appeal than a Crossover
If there's one word to describe the Rogue, it's "chic." This precisely captures both the exterior and the interior; great proportions, well-executed lines, and purposeful curvature culminate in compelling aesthetics.
New LED running daylights that frame the headlights add a sleek touch that accentuates the angular design. Fog lights and a large front air dam bulk the front end, which lends some muscularity to an otherwise flowing design. The curving along the hood and over the wheel wells, as well as distinct body lines, casts shadows across the body, which give a look of perpetual movement.
The Rogue's rear boasts a spoiler and angled tailgate that add bulk and athletic appeal. Its tail lights are also fashioned in an angular manner – not quite scowling, but appearing quite aggressive.
This isn't the standard crossover; it is, indeed, roguish.
On the inside, the cabin duplicates the same robust sportiness seen along its exterior. Clusters and controls are emphasized, yet they do not seem overloaded; the design is executed with precision: everything has its place with a size suitable for its function. Buttons and dials remain compact while the steering wheel and infotainment screen are ample. There is nothing superfluous, a unique feat in automotive design.
In a world of complex technology, the 2014 Nissan Rogue offers an intermingling of buttons reminiscent of yester-year and menus on displays that may require some quick acclimation. It won't overwhelm drivers unaccustomed to today's tech, yet it won't underwhelm savvy young professionals. Controls on the fact of the steering wheel provide easy access to every function the vehicle offers, so little movement from the comfortable hand positioning on the wheel is required.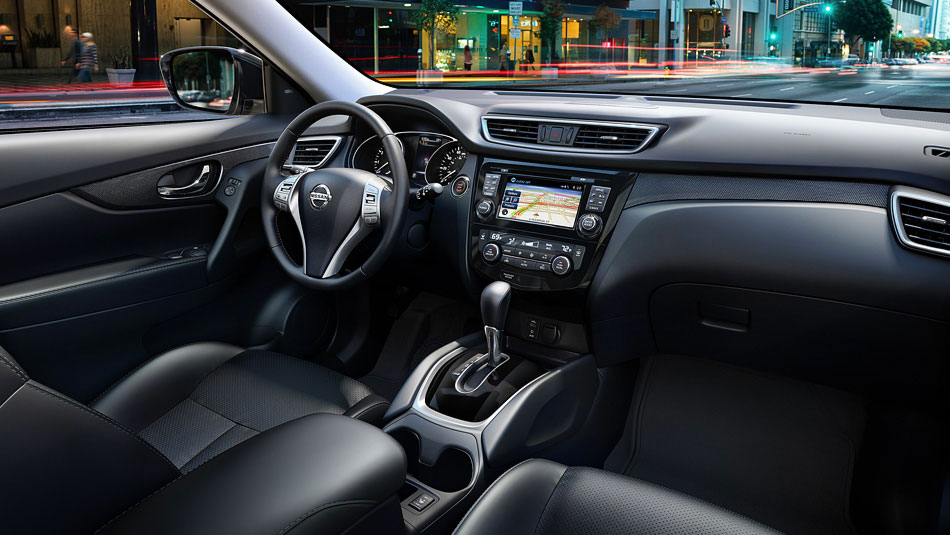 A nice hue lights the clusters and panels, so there's an ambiance easy on the eyes.
Seating in the Rogue is extremely comfortable. It feels like Nissan challenged its engineers to set the standard on ergonomics. The seats hug your body without being too constricting; the material used also isn't doughy, which often leaves occupants with back pains and popping joints. It's supple, yet firm.
2014 Nissan Rogue – Fun and Function Behind the Wheel
Have you ever had a friend recommend a restaurant, but you were hesitant because it wasn't exactly your type of cuisine? Still, you decided to make the trip to find that not only did the dishes served look amazing, their flavors inspired your palate even more. Right now, I'm that friend – and our dish is the Rogue.
As good as the Nissan Rogue looks, it drives even better.
It's dynamic. There's the spacious cabin that feels like a crossover, yet there is its power and handling that feel like a high-performance vehicle. Though it is rather muted in gear, there's a nice pulse in the Rogue that rouses spirited driving.
The accelerator responds with little hesitation and ample torque, again evoking a sense of sportiness. It growls with confident masculinity, so there's an audible reward for giving it a little extra gas. Similar to the rules of gravity – what goes up must come down – we have what speeds up must speed down. Fortunately, braking is buttery smooth and responsive.
Handling in the crossover is sturdy and reactive. Turning is easy, yet robust. Rounding corners is fun, gripping tenaciously to the road and maintaining a balanced equilibrium within the cabin. This crossover feels secure on both side roads and highways, which were both part of the test route. It can master serpentine roads, and it is fully capable to perform at high speeds on interstates. Though you may opt for more scenic routes because driving on a flat, straight surface just isn't as much fun as steep hills and sharp bends while in a Rogue.
Conversation comes especially easy, considering the meticulous design for aerodynamics. It's a quiet cabin, and, despite its deceptive spaciousness, every passenger can participate in discussions. Unlike in other vehicles, there's no need for asking, "Will you repeat that?"
A suite of technology, for both entertainment and safety, augment how enjoyable it is to drive a 2014 Nissan Rogue. It keeps occupants safe, and it provides enough items on the menu to keep attentive and amused. Easily navigate the infotainment screen to find any options from GPS to uploading songs from the phone. The items are delineated well and aren't an extraneous amount of sublevels deep.
2014 Nissan Rogue – Conclusion
Rogue (n) – a person whose behavior one disapproves of but who is nonetheless likable or attractive (often used as a playful term of reproof)
We'll give a quick credit to Webster's for that.
It lives up to its namesake; it is, indeed, a rogue. How? Other automakers will disapprove of just how unique the Rogue is, even though they find it (behind closed doors) incredibly likable. Beyond a general platform that makes it not quite a car and not quite an SUV, there are few characteristics that make it feel or look or drive like a generic crossover.
And you?
Well, you'll just find it likable and attractive.
Make sure you stop down at Leith Nissan in Cary, which is just a quick trip from downtown Raleigh. From the vehicles – like the Rogue – to the staff, you'll be just as pleasantly surprised to discover Nissan as I was.
Test Drive Review – 2014 Nissan Rogue
was last modified:
December 29th, 2014
by