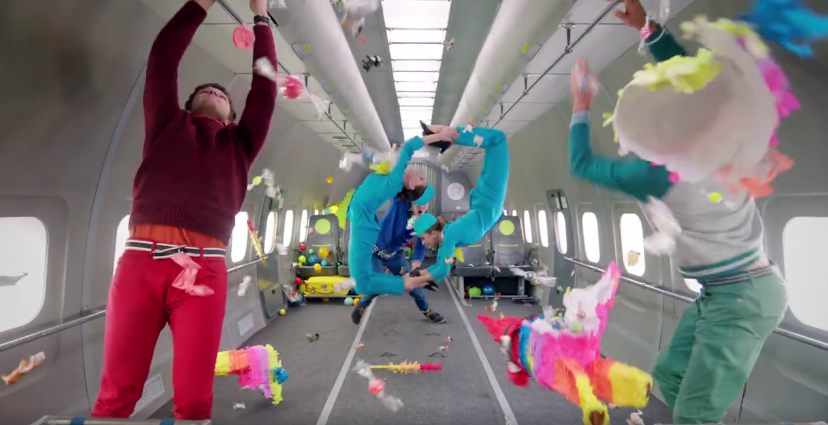 In the area of social media, few people understand how to create viral content better than the band OK Go.
Their latest video is for their song "Upside Down & Inside Out" which was released on their October 2014 record, "Hungry Ghosts." To play with the song's theme of gravity, the band decided to do the video on one of those planes where gravity is drastically altered.
So what's in this piñata video?
From there the band used their favorite elements: bright colors, dazzling choreography, optical illusions, lots of moving pieces, and a feeling of joyful chaos.
But the most striking feature of all is the band's preference on shooting the entire video in one take with one camera with zero computer-generated imagery. This has been true since the band's first music video, the one with the guys running/dancing on treadmills all the way back in 2006.
Have we seen something like this before?
Our sister blog for Leith Honda wrote about their previous music video for "I Won't Let You Down" which was shot in Japan using dozens (hundreds?) of motorized scooters and umbrella-wielding dancers. What makes their videos so shareable is seeing something so complex that you know must have taken hours of rehearsal.
It's inspiring to see a lot of hard work go into something that's created expressly for joy. There's never a plug to buy something, never a tagline or mascot for their brand, and no call-to-action, not even to share it. OK Go doesn't tell you what to do because—and this might be hard to understand—they don't care.
The social utility of rock stars
Why? Because they're rock stars and rock stars, by definition, lead a freer life than the rest of us. While we toil at out 9-5s, rock stars create the music that we celebrate the end of the day with, unleashing all the thoughts and emotions that we shuffle and manage.
Kudos to OK Go for showing us what living without gravity looks like.
OK Go Music Video Plays With Gravity in Zero-G Plane
was last modified:
February 12th, 2016
by