Our experience test driving the Leaf was so much fun that we decided to take another Nissan model out for a spin. John Felten was with us again, having graciously agreed to introduce our next demo car. We were standing in the overflow lot in front of Leith Nissan's future showroom. The car we were admiring was a 2015 Murano, dressed to the nines in a handsome Magnetic Black coat of paint.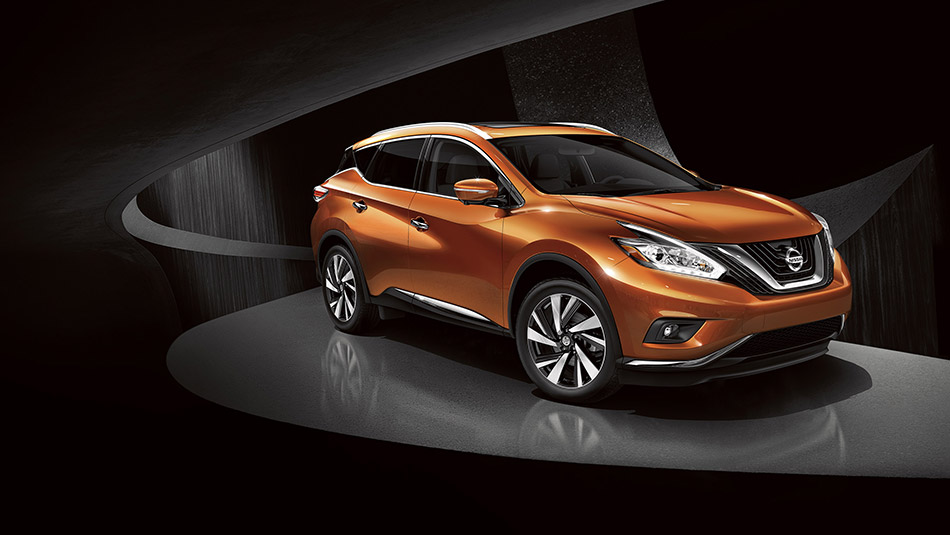 Exterior
This car has the new Nissan look, trading bulbous headlamps for sharp boomerangs and the "floating roof" appearance. These changes give the Murano a more dynamic profile, and the curves and creases in the sheet metal make it all the more noticeable on the road. A generous helping of chrome also garnishes the front fascia, side paneling, and rear end.
John informed us that this was the top-of-the-line Platinum model, so it was about as fully loaded as we could ask for. He showed us the gap in the lower front air intake where the car was equipped with a powerful radar – part of the Nissan Safety Shield® that monitors, responds, and protects the vehicle and its occupants. Safety features available for this model include Predictive Forward Collision Warning, Forward Emergency Braking, Blind Spot Warning, Rear Cross Traffic Alert, and Moving Object Detection, just to name a few.
He opened the trunk before anything else so we could take a look at the space offered in the rear of the Murano. It's comparable to what you'll find in most crossovers of this size, and as with all of those, your real cargo capacity comes from folding down the second row. This is easy to do in the Murano just by pulling a set of levers on either side of the trunk. Nissan makes your life that much easier though because the second row is powered, allowing you to unfold them back to their upright position with just the push of a button.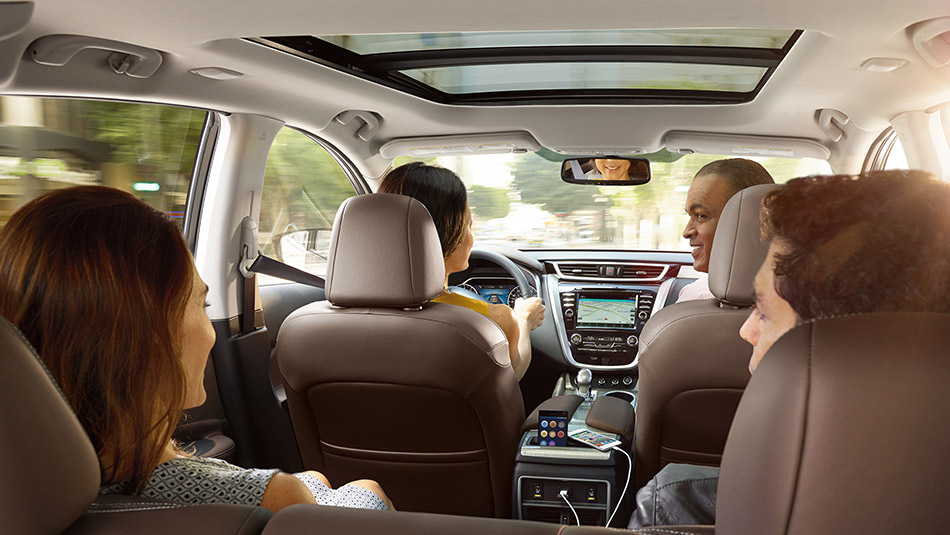 Interior
We worked from back to front, moving now to that second row of seats and getting inside. Editorially speaking, we're a bit taller than most passengers, so we want to make this clear: the Murano has more headroom than any car we've ever ridden in. That includes some full-size SUVs. This fact is even more astounding given the car's "stadium seating" setup, which places the second row a few inches higher than the front. Our demo car also came equipped with the dual-pane panoramic moonroof, which normally cuts down on headspace in other implementations, but didn't come close to effecting us in the Nissan.
The second row even has a cord you can pull to recline the seat some if you want. As John told us, Nissan wanted the passengers in this car to feel involved. From the back seat, everyone can clearly see the center console, and the front seats are spaced in such a way that facilitates conversation. We would also find out that there's a lot of impressive noise reduction technology in place, so occupants don't have to shout to have a conversation.
Finally making our way to the front, we luxuriated in the Zero Gravity Seats, inspired by space-age technology to reduce the fatigue of riding in a car for long trips. The interior is also covered in soft-touch materials, with Graphite Leather in this model, accentuated by Brushed Silver trim. There's an eight inch touchscreen display that is easy for passenger and driver alike to interact with, and it plays host to all of the features you're accustomed to in a modern car. You have navigation, media, phone controls, and more at your fingertips.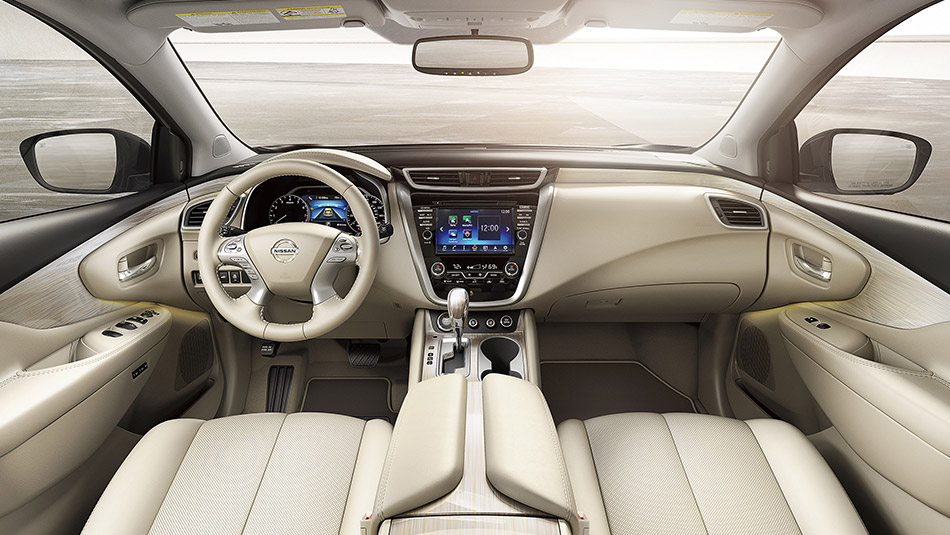 One of the first things we did before setting out on our own was pair our cell phone. NissanConnect makes it easy to sync a smartphone to the onboard infotainment system, granting you access to your phonebook, your music library, traffic updates, and other seamless feature integration. We queued up some music and let the Bose® Premium sound system work its magic.
Driving
From the auto park, we set out down Tryon Road, not paying too much attention to where we were going. For us, the driving portion of a review is less about the destination than it is about getting a feel for the car we're driving. We have a limited amount of time to get to know the wheels that are carrying us, so we have to make the most of that.
Spacious as it may be, the Murano does not feel like a big car. It's propelled by a 3.5L V6 engine that makes 260 horsepower – more than enough to get a move on. The engine is paired to a continuously variable transmission, which is one of the better ones on the market. Though a CVT doesn't have gears the way a normal car does, we could sense when the car was shifting and marveled at the smooth power output.
Our ventures took us down busy roads and quiet neighborhood avenues, not quite sure what we were looking for. Straight roads are rare in Cary, but the Murano easily navigates every curve thanks to light and responsive steering. We kept one eye on the navigation screen and eventually decided to seek out a park. In our head we pretended we were on the Fury Road, looking for the Green Place.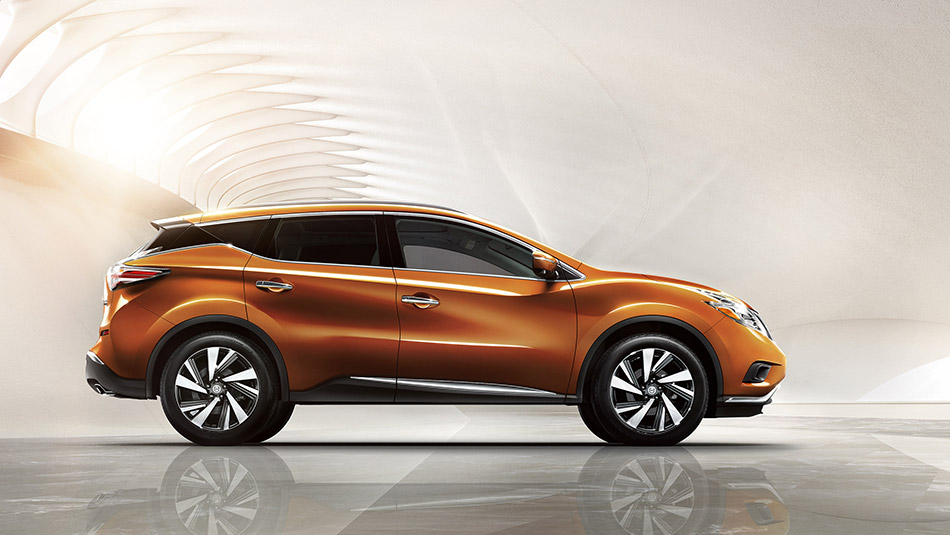 Having ended up in downtown Apex, we followed the signs for Jaycee Park. They weren't always clear, so we had a few opportunities to test out the Murano's turning radius. It makes graceful turns for a vehicle of its stature. Once we found the proper road, a lone speed table was all that stood between us and the park.
It was a small natural area. As we pulled into the tiny parking lot, we took in our surroundings, observing a baseball field perfect for little league games and an access to the nearby greenway. The grounds crew were out on that cloudy morning, finishing up some landscaping. We paused and watched them pack up their equipment while we collected our thoughts. After a time, we found Leith Nissan on the map and asked the car to guide us home.
Recommendation
The 2015 Nissan Murano is a big, comfy crossover. It's a good fit for small families and the perfect vehicle for navigating the Triangle. The Murano offers a connected experience to all passengers with lots of storage and USB ports for the front and back seats. Driving it is a calming experience thanks to smooth dynamics and a host of safety features, and the excellent fuel economy is another plus.
We have to thank John Felten and the rest of the staff at Leith Nissan for making our test drive possible. Feel free to call or visit Leith Nissan today if you would like to schedule your own test drive experience or if you have any other questions about the 2015 Murano.
Behind the Wheel: The 2015 Nissan Murano
was last modified:
July 10th, 2015
by